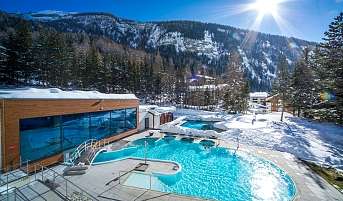 In continuation of the indoor pool, the outdoor pool is set in the park and offers a unique time of relaxation. The thermal water temperature is 32°, exactly the same as in the indoor pools. Enjoy the fresh air and our jacuzzis in the sun and in the snow.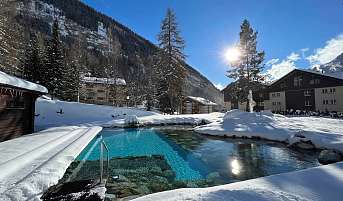 The biotope is an authentic, natural swimming pool with temperatures varying between 7° and 17°, depending on the season. This cold water is ideal for unlocking all of the sauna's benefits and enjoying their full effects. Alternating these sessions in the warmth with a few minutes in the cold water of the biotope will help to improve your immune system. Surrounded by pebbles and reeds, this soothing place will not only invigorate your body but your mind, as well.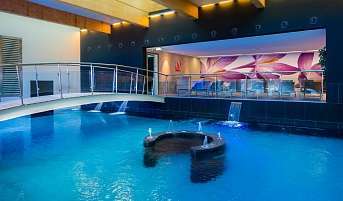 Our indoor pool suits perfectly after a day's skiing or an excursion into the countryside. Let aches float away and weary limbs relax. What could be a nicer reward? As you enjoy the natural warmth of our private spring, your tensions will ease in a moment of sheer lightness.
Sauna and steam bath from 14:00h
Enjoying a magnificent view of the park, our sauna is an invitation to the pleasures of Scandinavian relaxation. Frequent sessions purify the skin, stimulate the heart and blood circulation and cleanse the body. In order to fully benefit from these sessions, it is advisable to alternate these with periods of time immersed in the cold water of the biotope. From our Nordic sauna, you may quickly find yourself in a more southern atmosphere when you spend time in our oriental hammam with its golden shimmer and beneficial vapours. In particular, the hammam is recommended to promote relaxation and/or recovery after physical activity. In just a matter of minutes, aches give way to a sensation of lightness and freshness.